My eclipse plans for 2017 August 21, Monday
<! : 9mb 9mc kh9 >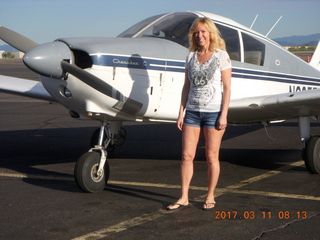 2017 August 21 will be my eleventh total solar eclipse attempt. So far I'm ten for ten, I've seen all ten I've attempted to see. I plan to leave Phoenix Deer Valley Airport (DVT) 2017 August 19, Saturday morning, for Rock Springs (RKS), Wyoming, where I'll be staying for the weekend. It's about a hundred miles off the centerline. I expect to have company for this trip, not her first small-airplane trip.
<! : 999 999 ti4 >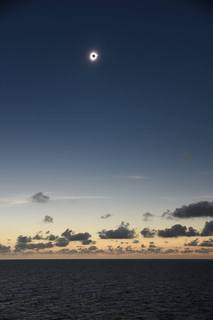 Here are my pictures of my flight from Phoenix to Rock Springs with stops at Page and Canyonlands and spectacular views of the Grand Canyon, Lake Powell, Cataract Canyon, Canyonlands, and Desolation Canyon. (I detect a definite "canyon" theme here.) My travel companion Kim was especially awed by the Grand Canyon as seen from above during our flight. At Rock Springs Airport the folks at the fixed base operator (FBO) were terrific to us, day after day, making the experience a little better than we expected every day in every way.
I have three friends in North America with whom I've shared two eclipses in Africa, two in Australia, and one in China. We've never shared an eclipse here in North America. (We did watch the Transit of Venus a few years back.) So this is our first time being together in North America for a total solar eclipse. These three friends are booked in hotels in Thermopolis (THP or HSG), Wyoming, right on the north edge of the total-eclipse path. I'll probably see them during the weekend before the eclipse.
Here are my pictures of my trip to Thermopolis to see my eclipse friends Bill, Howard, Louise, and Ron and then Gwyneth and Simon.
On eclipse day, weather and convenience will make plans for me. Once in Rock Springs, I'll have my airplane and a rental car. Morning weather in Wyoming should be good, but if it's cloudy, then I hope I can fly someplace sunny. If not, then I hope I can drove someplace sunny. Sometimes large weather systems take over and there's nothing but clouds and rain for hundreds of miles.
<! : 9sm 9sm t9b >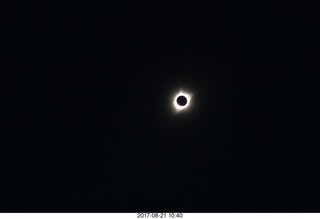 Riverton (RIW), Wyoming, keeps looking okay and not okay, maybe clear, maybe cloudy, Dubois (DUB) is looking a little better, and Jackson (JAC) is looking better still. The total eclipse is around 11:40 Mountain Daylight Time (MDT) and cloudy weather is moving in around noontime. Totality is five minutes earlier in Driggs (DIJ), Idaho, a minute sooner than that in St. Anthony (U12), and a minute sooner in Mud Lake (1U2), all of which are also forecast for clearer skies. We'll see what weather reports are saying on Eclipse Day.
I ended up at Riverton Airport (RIW) where they were especially nice to everybody. Riverton Airport knew they were going to be swamped, they took telephone reservations beforehand, and they got us to a spot on the grass near the hangers right after we landed. They had food for sale, breakfast and lunch, at a reasonable price to boot, along with chairs and tables for their many guests.
<! : 9sn 9sn qlh >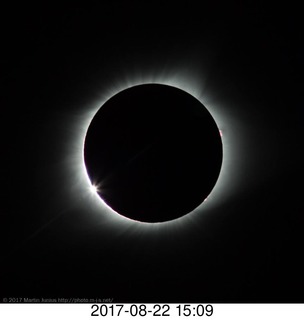 Here are my pictures of my Total Solar Eclipse Day, mostly in Riverton, Wyoming. One of my ten prior eclipses I saw shadow bands, waves of lighter and darker sunlight on an exposed surface. We saw them on our white table just as the last bit of sun was winking out and the corona came into view. My new camera is a lot better than my old point-and-shoot, but it's still far short of professional-camera quality.
Here is a diagram from Tom Weller's book Science Made Stupid which I believe is now out of print. (Don't get upset, it's a parody and is supposed to be wrong.)
I have a friend from Bermuda, who is coming from Denver to Casper (CPR) on Eclipse Day. After the eclipse, maybe he'll be available for dinner in Casper. 2017 August 22, Tuesday morning, is my planned trip home.
After the eclipse, I had an early dinner with my friend Ed in Casper. Getting into Casper Airport (CPR) was amazing with a conga line of leaving airplanes almost a mile long. The woman in the tower was amazing, I'm sure she had a long day, and she remembered me coming in when I left.
Here are my pictures from our delightful flight home. We came via Bryce Canyon (BCE) because weather forecasts were better there than Page (PGA). Kim was a joy the entire trip, went with the flow, especially loved the Grand Canyon view and, of course, the eclipse, and was a positive source of energy to me for all four days.
Finally, here are my pictures from the next Saturday in Flagstaff where my eclipse friends Deborah and Dave were staying five days after the eclipse. I took them to see the meteor crater near Winslow and there was a car show at Flagstaff Airport (FLG) that day.