Thirty years at Curtis Arboretum.
2003 September 6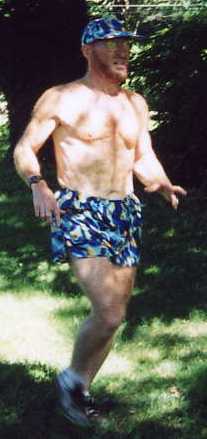 "In 1973 September Cheltenham High School Cross Country ran our first race at Curtis Arboretum on this course. I passed three opponents up the hill, two of them passed me back on Church Road, but it was enough: Cheltenham twenty-seven, Holy Ghost Prep twenty-eight.
"I'm trying to get my head around thirty years. The tree at the top of the hill is gone, the tree at the furlong is gone, and the big tree near the start is gone. We lost Lee Moskowitz, Mike Berry, and Dave Sacks. I knew them all and I miss them. There are new trees here at Curtis, and there are new faces. How many of you are running your first race here today? Welcome to the club.
"I'm proud of Cheltenham Cross Country, the coaching over the years, the older and younger alumni, the returning team members, and you new runners as well.
"How do I know I'm proud of you new guys? You have shown what it takes: Going out for the team, running the summer miles, doing interval work in August, showing up here today, running a hard race, . . . .
". . . . and getting beaten by Manly Men: Beaten by guys whose interval work consists of getting up six times for a beer during a single ball game. Beaten by guys whose hill training is going down to the basement to put another sixpack on ice. Beaten by guys whose distance training is driving three-quarters of a mile to the store for another case.
"Varsity, you're our past and we're your future. I hope you all share my pride in Cheltenham Cross Country."