BRANDON'S EULOGY
<!IMG SRC="bran-sit.jpg" WIDTH=250 ALIGN=LEFT>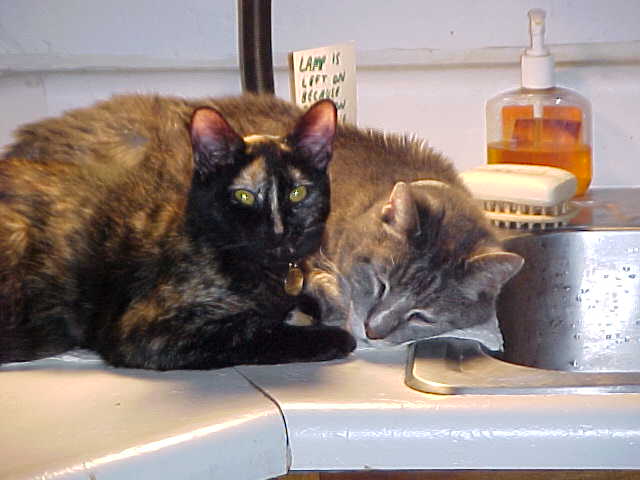 If you're the kind of person who can't stand reading sappy, sentimental stuff about other people's pets, then please skip this section.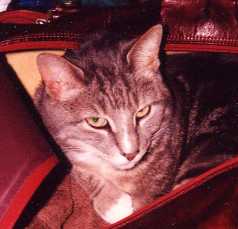 My cat Brandon was born in 1983 February and I got him from a friend of a friend a year later, 1984 February. Brandon lived in seven states, an itinerant lifestyle for a cat, and passed away 2003 August 22. His life of two decades and six months owes much to wonderful veterinary care. Brandon received daily insulin shots for diabetes the last few months of his life. (I was afraid I would require medical attention the first time I stuck a needle into an animal with teeth and claws.)
My two cats Brandon and Jack were together with me for fourteen years, from 1988 to 2002. Jack passed away and I got a kitten named Maria as the second cat of my household. I wasn't sure how a cat of his advanced age would take to a cat of her youthfulness, but the two of them got along.
Jack and Maria have been simple cats. Jack loved everybody and seldom played favorites. Nearly every visitor to my home was kindly greeted by "the cat with no tail." Similarly, Maria is a bundle of joy, she is happy to see everybody, and she is particularly happy to be around me, a good thing since she's my cat.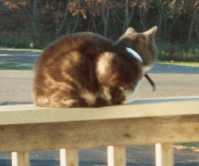 Brandon was more complicated. He learned how to get what he wanted being in the right place and the right time. While Brandon and I became close friends, lots of time sharing my lap and my blankets, he accepted other people with more difficulty. In his later years, he was more gracious about sharing space with other people, but he never had Jack's or Maria's comfort with it. Brandon was my cat.
On Brandon's last full day he went outside, smelled the grass and wandered around the yard, and sat with me while I watched a television show. We got our chance to say goodbye.