2023 September 7 - Audiophile Critique of USBPre 2
<! : a1x5 bx7 bu6 >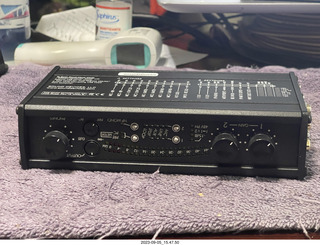 I'm planning to restore my old recordings from 1980 and 1981 (many of which have succumbed to "sticky-tape" syndrome) and to archive them in higher-quality digital files. Sometime around twenty years ago I "burned" them all onto compact disks (CDs) using a wonderful HHB BurnIt device and, more recently in 2019 January, I "ripped" those CDs onto FLAC (Free Lossless Audio Codec) that I have enjoyed for the last few years.
In 2020 March I dug out all my old live-music cassette tapes from the same period and digitized them for posterity using a twenty-dollar V.TOP analogue-to-digital device about which I have no complaints. The sound is clean and correct and I thought well of it at the time. More recent comparisons with significantly-higher-end equipment only increases my respect for what the V.TOP designers achieved.
Let me take a moment to reflect on these recordings. My friend Jonathan at International Phonograph Inc. (IPI) in Chicago sells tape copies of live music to die for, Stan Getz, Ravi Shankar, Benny Goodman, Chick Corea, et cetera. He lives in a rarified world of the best recordings of the best people recorded and played on the best equipment. While my live-recording history is significantly more modest, I feel I have earned a seat at his table, if only to sit at the corner where I have to lean over to reach my plate.
I sympathize with Corey Greenberg that I'm a far better audiophile weenie having made my own live recordings. Mel Schilling sold me a pair of Nakamichi CM700 microphones which I have used in their cartioid configuration and placed half a meter apart facing out at a 90° angle. I have a two-minute sample recorded 1980 February 13 at The Bucket in Palo Alto for the reader's perusal. This recording was made using a 1979-vintage Sony TC-D5 with an old, ordinary Maxell UD-90 cassette, no chrome, no metal, and no Dolby noise reduction. It's clearly limited compared to a reel-to-reel recording or even a good phonograph record, but it has that live-music feel, "the magic of the moment," and it has a fantastic stereo image.
So here I am with forty tape from forty years ago (maybe thirty-nine tapes from forty-two years ago, close enough for jazz) and many of them are Ampex 456 Grandmaster tapes that got the dreaded Sticky-Tape Syndrome where, so I'm told, the water supply at the new Ampex factory was different enough that the newer, post-1970 tapes would turn into sticky goo over a couple of decades. The cure, they tell me, is baking the tape for several hours so I get one play (or maybe a few plays over a few hours) which would be best used to copy the tape. Planning to do that with my older Ampex 456 tapes it seemed reasonable to make digital copies as well at higher resolution with higher sound quality than was available to me twenty years ago.
Jonathan recommended Chris at Sweetwater Sound who recommended the Sound Devices USBPre 2 for about USD $1100 to my door. I pulled out my IPI tape from 1980 July 2 of Ravi Shankar and make several digital recordings of it. Depth here is bits per sample and rate is thousands of samples per second.
| | |
| --- | --- |
| A ipi-1980-07-02-ravi-shankar-vtop.wav | 16/44 |
| B ipi-1980-07-02-ravi-shankar-sd-16-48.wav | 16/48 |
| C ipi-1980-07-02-ravi-shankar-sd-16-96.wav | 16/96 |
| D ipi-1980-07-02-ravi-shankar-sd-24-96.wav | 24/96 |
| E ipi-1980-07-02-ravi-shankar-sd-32-96.wav | 32/96 |

All of these were created with Linux-Mint Audacity, File A was done with my $20 V.TOP device, and the rest were done with the USBPre 2. It took some asking questions and messing around to figure out how to make recordings with various depths and rates and the USBPre 2 is a 24-bit device, so File E should be no different from File D. We'll call the live tape itself "File F" to make comunication easier.

My young aspiring-audiophile friend Tyler joined me as we compared A-C, C-D, and D-f. Each comparison had more clarity and texture, better imaging, more dramatic impact, just "more there there" as at least one audio guy has put it. I attributed the A-C improvement mostly to better equipment, the C-D improvement to the depth increase from 16 to 24, and the D-F improvement to two fewer conversions direct from the tape. The C-D was profound as the extra bits offer a lot of extra resolution. My real-engineer RADAR-geek friend Jeff doubts the 24-bit mode is really linear to one part in 224=16777216, but if it has an honest twenty bits, that's one part in 220=1048576, sixteen times more "inner detail" (as one audio rag called it) then the 16-bit compact disk standard.

One thing cool to me is that I'm still able to hear these differences at this critical level of audiophile discrimination even through my Oticon hearings aids to my age-addled ears. (That's another reason I was so happy Tyler could join me.) There's something cool still being able to listen at this level of acuity.

I'm not pooh-pooh-ing the compact disk sound as garbage, even if it isn't as good as my records and my factory tapes. But, for right now, we're living and listening in a live-music-to-tape world where the standards are far higher than compact disks, vinyl records, or factory tapes, even the two-track "inline" tapes made prior to 1960.

I'll be delighted to have digital copies of my tapes made on the Sound Devices USBPre 2.

<! ???????????????????????????????????????????????????????????????? >

<! ================================================================ >