2023 January 30 - Recent Driving Issues
<! : 86h 86h uxo >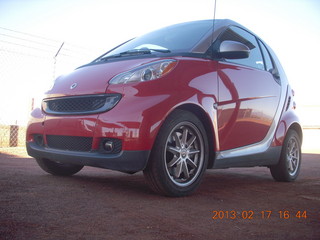 Driving and drivers are long-term topics of complaining conversation. Here are a few items that I grumble about more recently.
Lagging left: One of the positive features of Scottsdale is that left-turn, cross-traffic-flow, traffic-light-green arrows come after the straight-ahead green light. This is good for drivers because it keeps more traffic going straight. This is good for bicycles because it clears out the right-turn lane before the light turns green. This is good for pedestrians because the last traffic going across is confined to just the left-turn lanes. Well, Scottsdale decided to do something about it. They found something worse than switching all the intersections. Instead they changed just some of them so we don't know which way the lights are going to go next.
Late turn signals: There is something more annoying than drivers not using their blinkers, or "signaling straight" as I put it. There is something more annoying, waiting until the turn is already in progress and flipping on the blinker as if to say, "Yes, I know we're supposed to use blinkers, but I can be more annoying this way."
A new generation of idiocy has drivers "wolfpacking," as one friends calls it, going out of their way to hang with other drivers. I've made as many as four speed changes only to have a tag-along-in-my-blind-spot driver stay with me.
<! ================================================================ >