.



MONUMENT VALLEY OVERNIGHT
2012 November 24-25, Saturday and Sunday

<! : 83q 83r 5q6 >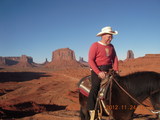 I can heartily recommend Monument Valley as a great overnight stop, especially for Phoenix pilots, (or Salt Lake City or anywhere in the four-corners area). My two friends and I had a great visit with lunch, tour, dinner, sleep, and breakfast at Goulding's Lodge. I've been to Goulding's before for lunch a couple of times.
I will remind any pilots heading that way that there are some big rocks just south of the north-south runway, enough that you're landing south and departing north no matter what the wind is, enough that I wouldn't feel good about aborting a landing there. In short, don't count on a go-around from a botched landing. There's plenty of runway, just make sure you use it wisely. Here is a video of my landing at Goulding's on 2012 May 4, when I was coming home from Moab to Phoenix.
<! : 83q 83r 5nr >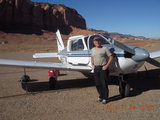 Remember, this is a private airstrip, so it's best to call and get permission to land there. They have information with a link to a form you can fill out in advance.
Sean, Kristina, and I flew from Phoenix Deer Valley (DVT) to Monument Valley (UT25) in N8377W, my Piper Cherokee on 2012 November 24, Saturday morning. This was the first trip on my airplane's newly overhauled engine, a nice, two-hour flight.
<! : 83q 83r 5o3 >
We got to Goulding's and had a delightful lunch at the restaurant at the top of the complex where the view is terrific. We checked into our rooms, rested for a few minutes, and met our guide Larry for our 3.5-hour tour. We were in a mostly-open seating area in the back of a truck, five people with fifteen empty seats. After a few miles on a paved road, going south from Utah into Arizona, we turned onto bumpy dirt roads for the rest of the tour. Larry drove us around, past, and up to various rock formations. Larry also regaled us with stories of meeting various movie stars in his years as a Navajo growing up in Monument Valley. The ride was quite bumpy on "unimproved" roads out in the backcountry. On dirt roads I've been heard to say, "I've landed on worse," but not this time.
<! : 83q 83r 5s8 >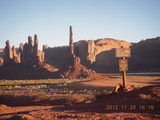 One of the stops was John Ford Point where, for five bucks, a tourist can get photographed on a horse, can be the epitome of the Old West at Monument Valley alongside the spirits of John Wayne, Clint Eastwood, Henry Fonda, and even Michael J. Fox, Chevy Chase, Keir Dullea, and Tom Hanks. Maybe it's more like Benjamin Kubilsky in "Jack Benny Rides Again." In any case, I was able to sit on a horse to get my picture taken in a beautiful place.
Our tour continued through sunset among majestic rock formations and came back to Goulding's with a chilly breeze in our well-ventilated, open-air truck, well worth any cold discomfort. We had dinner back at the restauarant, went to sleep, and didn't get up until the next morning. Here are my pictures from 2012 November 24, Saturday.
<! : 83r 83r tag >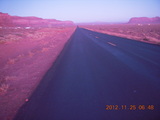 My Sunday was busy. I got up at 5:30 so I could run a few miles before sunrise at 7:10. A quick shower got me clean and dressed in time for breakfast at 7:30 so we could eat, check out, do our pre-flight inspection, and be airborne by 8:30.
We flew over a few small towns in northern Arizona that are built on the top of mesas, not the usual arrangement. I'm told the folks there sometimes wave at airplanes flying by.
<! : 83r 83r tba >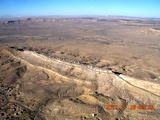 We refueled at Winslow (INW) and made it back to DVT in time for me to have lunch with other friends at 11:45. After lunch I enjoyed a concert by The Capitol Steps in Scottsdale for some seriously-good laughs. They ended their show with the observation that, "If you had half as much fun listening to our show as we did doing it... then we had twice as much fun as you did!"
Sunday was a long day with a cheerful ending. I even got some work done for my new company before I went to bed.
Here are my pictures from 2012 November 25, Sunday. My recommendation? Put Goulding's on your list for a fun weekend trip.