| | | | |
| --- | --- | --- | --- |
| <! 1 > <! : 7y3 7y9 gvr > | <! 2 > <! : 7y3 7y9 gvu > | <! 3 > <! : 7y3 7y9 gvt > | <! 4 > |
Summary
<! : 7y3 7y9 gww >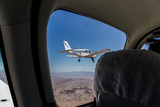 So it's an airplane vacation. What's the big deal?
This trip was everything I love about having an airplane. I know people with campers or boats. They're a lot of fun but getting anywhere interesting takes a long time and often isn't interesting in its own right. Flying from here to there is a lot of fun for me and I <! get to > have fun flying around wherever I end up going.
<! : 7y3 7y9 gwx >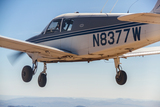 It was fun seeing my eclipse friends in Saint George. (It was neat to tell them that I would be there in four hours from Phoenix after showering, dressing, driving, and flying.) When I was in Las Vegas, Mike and I know some people in common, so we got to gossip a little. (It's okay, we were chatting about people we both liked, so nothing bad was said about anybody.)
It's exactly the kind of trip I feel an airplane was made for. It's seven hours of driving from Phoenix to Saint George and most of that isn't very interesting. (The last hour, from Mesquite through the Virgin River valley, is spectacularly beautiful, and more so from the ground than from the air, actually.) Still, I know I wouldn't have bothered with the trip without the extra aviation connection to make it special. Las Vegas and Saint George are a few hours apart by car, again with a couple of flat, boring hours in there, and a pleasant hour of grand scenery in the airplane. I've done one airplane camping trip at a back-country airstrip (Negrito (0NM7) in New Mexico) and am seriously considering getting a tent and sleeping bag to keep in the baggage compartment of my airplane.
<! : 7y3 7y9 gvx >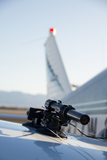 The combination of going places and fun flying when I get there makes airplanes wonderful and, in my never-very-humble opinion, makes my Piper Cherokee especially wonderful. There are far-better back-country airplanes that aren't very comfortable on long flights and take considerably longer than my bird. Most of those airplanes take a lot more pilot skill than I have to land when the wind is gusty and from the wrong direction. There are far-faster airplanes that I don't think I would ever be comfortable taking into the small, dirt airstrips where I love landing and running. The Cherokee does nothing well, but it does just about everything well enough so I get the best of many worlds in aviation.
Eastern Airlines used to advertise that getting there was half the fun. If going someplace by airline is half the fun, at least these days, then you must be going someplace awful. Going places by Piper Cherokee is terrific for me and this is exactly the kind of spontaneous, flexible vacation I think it was made for. It's also the kind of vacation I think I was made for, too.
| | | |
| --- | --- | --- |
| <! 1 > <! : 6bf 6bj ryi > | <! 2 > <! : 6bf 6bj s37 > | <! 3 > <! : 6bf 6bj s59 > |
| <! 4 > <! : 6bf 6bj rzn > | <! 5 > | <! 6 > <! : 6bf 6bj s3h > |