Forty-five years at Curtis Arboretum.
2018 September 8
<! Mike Berry, cross country departed, history, present .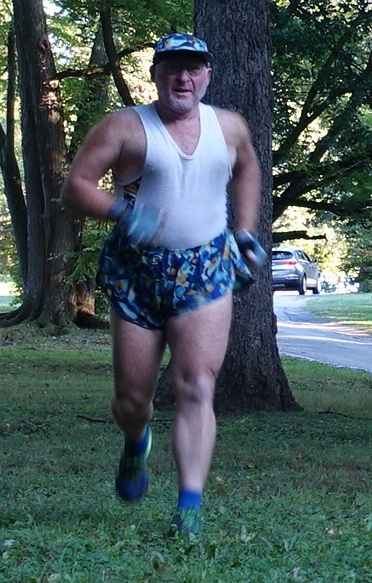 Two score and five years ago our predecessors came to Curtis Arboretum for our "new" cross-country course and we have stayed here four and a half decades.
We celebrate Mike Berry today three times. He was an amazing athlete, a wonderful coach who changed many lives, and a terrific human being whom I'm proud to have known. I join a lot of people being a better person for knowing Mike Berry.
My own celebration reaches further. I celebrate the memory of alumni no longer with us. I ran with Lee Moskowitz, I knew Dave Sachs, and I met Jake Berkowitz. Mark Parisi and I aren't on the dear departed list with medical help and I'm sure there are others I don't know about. With some luck and some serious medical intervention, Jaison Potts is with us to celebrate this day.
I celebrate the rich history of Cheltenham Cross Country, the coaches and alumni of this program. We went to States a few times over the years, we've won more meets than we've lost, but the personal victories achieved through this program have been continuous and copious. It's more than running fast on race day; it's about values and valor. A lot of lives have been changed for the better and I believe we're all better people for what we learned here.
Finally (oh good, he's finally finishing up) I celebrate Cheltenham Cross Country today in 2018, you Varsity runners on the team today, and our coaches. I celebrate your commitment to come out for the team, your persistance in staying with it all summer, and your efforts this morning. You're going to lose more meets than today, but only today do I celebrate your loss to my fellow alumni. As we crush you mercilessly up the hill the second time around, we represent your future. I hope you can look up to us Cheltenham Cross Country alumni as leaders and role models as you see our backs ahead of you.
I celebrate all of this today, Coaches, Alumni, and Varsity, and I'm happy and proud to be here.
forty-years remarks, 2013 September 7
thirty-six-years remarks, 2009 September 6
thirty-years remarks, 2003 September 6
twenty-five-years remarks, 1998 September 12